CLUB PROFILE
Brisbane Chess Club: 67 Ipswich Road, Woolloongabba (Qld Contract Bridge Club)
MAP: Click on the blue dot for location map.




The club enjoys a relaxed & social (but professional) environment welcoming players of all strengths and experience. Current membership is approximately 30. Most members attend weekly with past members and visitors making regular appearances as well.

Under 18s are welcome. Parents may either leave and collect their children or stay on the premises and read, make a coffee or even join the club themselves!

CLUB NIGHTS
The club meets every Thursday night (except for December and January) with games starting at 7:45 pm. Night fees are payable on the night. Tournaments are held back to back, typically 1 round per night, lasting for between 5-7 weeks. Different time controls and ratings divisions apply to each tournament to cater for all tastes. There is often time left over for social lightning games afterwards.

FEES
CAQ Membership *

$20

Annual

Club Membership

$15 |$10

Annual : Full | Discount

Tournament Fee

$5

Once per Event

Night Fees

$6 | $5 | $5 | $4
Non Member Senior | Member Senior | Non-Member Pens/FTS/Junior | Member Conc.
*The CAQ is the governing body of chess in Queensland. There are benefits of membership, both for the Brisbane Club (being affiliated) and for you as a member.

For instance, the Brisbane Club benefits by being covered with public liability insurance, as well as having voting rights at the CAQ's Annual General Meeting. The primary benefit of individual membership of the CAQ is accessibility and qualification for the national rating system. See also the Australian Chess Federation, the ACF.


CONTACT
President

Patrick Byrom
e: byronpa <at> hotmail.com
M: 0417 873 723


Treasurer

Lachlan Hurse



Secretary


Lachlan Hurse



Tournament Director
Web Master

Patrick Byrom
e: byronpa <at> hotmail.com
M: 0417 873 723


HISTORY
Formal chess appears to have started in Brisbane in 'the chess rooms' of The Brisbane Arts Theatre in Ann Street, Brisbane in 1885. In 1893, Mr. Walter Syson (born Birmingham, England, 1861) founded the Brisbane Chess Club (location unknown), and within three years membership had swelled to sixty. In 1896, the Brisbane Chess Club hosted the innaugural Queensland Chess Championship in which Syson came second (following a playoff after having beaten the winner, 17 year old A.C. Palmer in both legs of the double round robin). Source: Town and Country Journal, 18th January 1896.

The club's somewhat erratic history has been marked by periods of limited historical records, insufficient funds (and perhaps interest), various locales and disbandment.

In 1992, the club moved into its present home at The Queensland Contract Bridge Club at Ipswich Road, Woolloongabba, near the famous Brisbane Cricket Ground 'The Gabba', about 5 minutes from the CBD


INTERCLUB
The Brisbane Club participates in various interclub activities.
HIGHLIGHTS
August 2000 - GM Lubomir Ftacnik (Slovakia) joined us for a simul exhibition [+35, =2, -0] {below}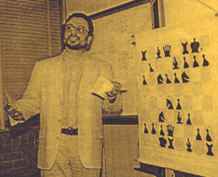 June 2002 - GM Ian Rogers (Australia) joined us for a simul exhibition.

June 2008 - IM Stephen Solomon (Australia) joined us for a simul exhibition [+12, =1, -0]